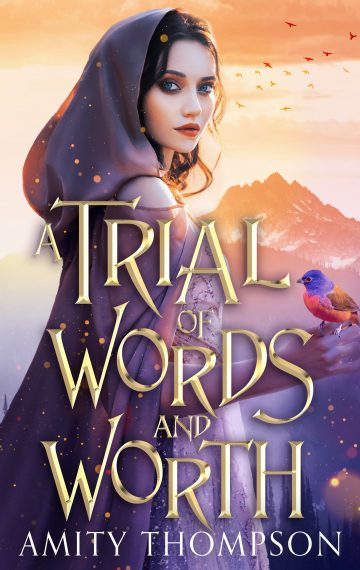 Publisher:

Secondary Worlds Press

Available in:

eBook (Kindle Only), Kindle Unlimited, Paperback

Published:

December 9, 2021
Amazon (Kindle Unlimited, eBook, Paper)
Print - These stores and more!
Ordinary words.
Extraordinary magic.
Passable. The word echoes daily in Emi of Stagmount's mind. Never a failure. Never a success. Not good enough by far to lead her humble mountain realm.
All changes as Emi tends a handsome, foreign stranger mauled by an unworldly monster. After exhausting her meager healing abilities, Emi tells him a story of magic, hope, and truth…
And he wakes.
Little does Emi know, her words contain magic as fantastic as the eldertales she grew up loving. But to earn a happily ever after, she must first find the bravery to speak.
Experience wonder and enchantment in this standalone fairytale retelling by Amity Thompson. If you enjoy imaginative tales with loyal friendship, clean romance, and a mysterious foe, A Trial of Words and Worth will delight.
*Loosely based on the Grimm's tale, The Twelve Huntsmen
No profanity or sex