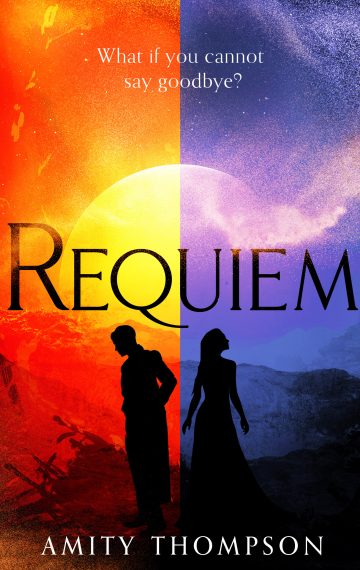 Publisher:

Secondary Worlds Press

Edition:

Second Edition

Available in:

Kindle eBook and Paperback

ISBN:

978-1-951108-08-3
Amazon (Kindle Unlimited, eBook)
She sends the dead. He heals the living.
Together they destroy the world.
Scarred by childhood trauma, Sister Kaedra never wanted to join the order that sings the dead into the afterlife. Yet with her rare talent desperately needed in the battle-torn land, she must do her duty before tortured spirits corrupt into vicious, bloodthirsty monsters.
Once outside the Order's lands, Kaedra sees first-hand the evils of war. Her beloved partner, the healer Lukoan, falls into despair as they witness atrocity and cruelty. What began as doubts in Kaedra's heart fester into heresy.
When tragedy strikes, one defiant note changes their lives, and deaths, forever.
Requiem is a haunting standalone young adult fantasy. If you like conflicted characters, heartbreaking quests, and page-turning peril, then you'll love Amity Thompson's captivating story.
*Also published as Requiem Transformed – Identical story, different packaging.
*Contains violence, death. No sex, rape, or profanity.
"The story was beautiful. I cried and cheered for hero and heroine as their characters evolved. Amity developed the story, and characters perfectly.
Make no mistake, the ending will have you in tears, but also gives you hope for a future where the sisters and brothers of the story are more balanced in life, with joy and sadness of their own, while serving to heal the sick and guide the dead." — Amazon Reviewer for Requiem
"This is one of the best stories that I have read in a long time. And I seriously read a ton of books. Full of heartbreak and hope, wisdom gained only by fatal mistakes. It's a story that will resonate deep in your heart. This one will stay with me." — Amazon Reviewer for Requiem
Bonus Content For Requiem
Requiem Playlist – songs that reminded me of characters, scenes, and themes as I wrote
Requiem / Requiem Transformed – why there are two versions of the book